Bass Drum Secrets Product Review
<<< Back to Learning Drums Articles
Double Your Bass Drum Speed With Half The Effort!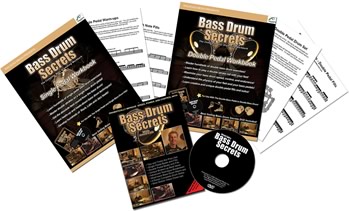 If you're an industry expert or a newcomer to the drumming world you can certainly learn a lot from the Bass Drum Secrets system. This brand new system breaks down the techniques of Single and Double Bass drums allowing you to gain more speed, power and overall control to maximize your ability. The DVD video breaks down the Bass drum techniques so that even a beginner can follow the lessons and obtain a huge advantage over drummers that haven't been exposed to the system. From the basics of practical bass drum playing to advanced training techniques and secrets that professionals have been using for years, this training package has everything thing you need to enhance your bass drum ability.

The DVD starts with the basics of an overview of simple Single and Double bass drum techniques. Using this proven training system, you will be able to double the speed of your bass drumming. Once you have started to learn the techniques presented in Bass Drum Secrets, you will begin to see visible results even the very first day that you start practicing! If you have ever wanted to be able to play with the same incredible speed as the professionals, this is the system for you.
Not only does Bass Drum Secrets have the secrets that you need to double your bass drum speed, you will learn how to play at this pace using LESS effort than you are probably used to exerting during a session. You won't be asked to install any special equipment or add-ons with this amazing system. The techniques taught are applicable to virtually any drum kit setup with any equipment combinations.
Tyler Gunter, a drummer from Nevada, thought he had reached the ceiling in his bass drum speed and technique until he discovered the power of Jared Falk's Bass Drum Secrets system. He has this to say about the DVD:
"I was immediately impressed… I was surprised at the short amount of time that it took! He made it fun, simple, and really motivated me to do it!"
Travis Howell from North Carolina says:

"What really sold it for me was the slow motion video and the foot cam so you could see exactly what he was doing. It's not hard at all to learn yourself once it is slowed down with the slow-motion camera."

Many of today's top professionals are already using these techniques to play both single and double bass pedal setups with speed, power, and control. No matter how much you practice, you will not be able to reach this level of mastery of the bass drum without the teachings of Bass Drum Secrets.
Consider this system to be an investment in your drumming from which you will benefit for the rest of your life! This complete training system is designed to teach mastery of these secret techniques to anyone, regardless of current skill level on the drums. When you use Jared Falk's Bass Drum Secrets, you are not just getting a demonstration DVD. This total training system includes an overview of the ABCs of bass drum technique, to reinforce basic procedures.
You will also find valuable practice tips as part of this exciting system! You will learn how and what to practice not only the new bass drum skills you will be learning, but general practice guidelines for anything that you want to learn on drums.
Slow motion video of the practice exercise being played accompanied with a detailed explanation of the basic method guarantee that you will be able to master the information that is presented. Every drummer has a weaker foot, but imagine using the techniques that the pros use to improve speed, power and control, even with your non-dominant foot. Bass Drum Secrets can show you how! Using this technique, you can develop a smooth, practical double stroke roll with both feet.
Part 2 of the DVD helps you explore how these strategies can be applied in the real world of drumming, with eight unique warm-up patterns, ten single pedal beats, twelve single pedal fills, ten double pedal beats, six double pedal fills, ten broken up beats, and close-up video of every single application to the pedals.

The DVD's bonus content includes sheet music in a ready-to-use PDF format and twelve drum solos to help you show off your new advanced bass drum skills. Workbooks for both single pedal and double pedal bass drum round out this complete system. With a 100% Money Back Guarantee, you have nothing to lose, so find out why drummers are calling Bass Drum Secrets revolutionary!
Want to learn how to play double bass? Learn how to play the double bass drum here!
Related Articles and Sites: Official Jared Falk Site, Jared Falk Bio